Tile from Daltile
Daltile is committed to setting the industry standard as the leading manufacturer and distributed of ceramic tile and natural stone in the United States. Modern Flooring Carpet One Floor & Home is your local retailer for all things Daltile flooring. We only carry the best quality brands and floors and Daltile is nothing short of either of those requirements. We recommend Daltile for your next kitchen or bathroom project and our flooring professionals can help you choose the perfect tile.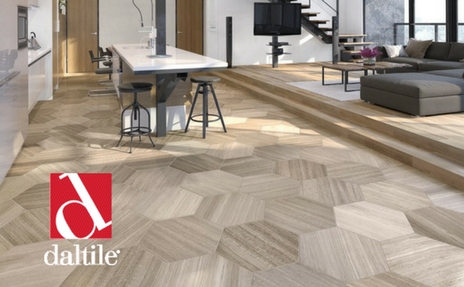 When you choose a Daltile product, you are choosing a tile that features ClimatePro, ProTough, and StepWise. These three features deliver you a tile that is resistant to cold weather, waterproof, scratch proof, stain proof, and has increased slip resistance.
Daltile offers several different tile options for you to choose from including class styles such as ceramic, natural stone, and porcelain. They also offer specialty tiles like glass, metal, mixed elements, quarry, and resin tile. A currently popular tile trend is wood look tile flooring. Wood look is a popular flooring option because it is more affordable and more resistant than natural hardwood is. Wood look tile features realistic visuals of wood grain details, and in some products even texture. Wood look tile is water resistant, so you can install in in your kitchen, bathroom, or laundry room without worrying about damage caused by moisture.
To learn more about tile, speak with one of our flooring professionals at our showroom in New Orleans, LA.