Best Kitchen Flooring Options
Kitchen flooring options are numerous, giving homeowners the ability to choose a floor that meets their unique needs. When choosing flooring for your kitchen, you'll want something that is easy to clean and maintain, beautiful, and durable. Depending on your budget, other materials in the space, and your color preferences, you may have many options to consider. Traditional use of hardwood, though, isn't the only option you have.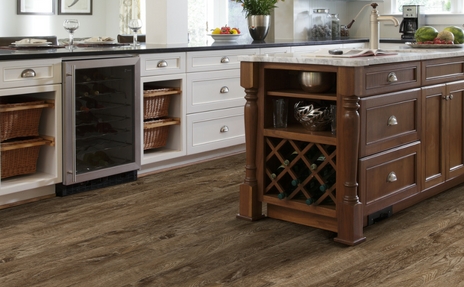 Kitchen Floor Ideas
Most homeowners need a kitchen floor that can handle moisture and significant wear and tear. It needs to be stylish, but also functional. Consider these options:
Tile Flooring: Kitchen tile is one of the most effective options because it is easy to maintain in wet conditions. It is easy to clean and, with so many styles available, there is always something to match just about any decor. Tile is also versatile in pricing, with plenty of options for most budgets. Stone tiles can be a nice value-add to the home. You may want to choose ceramic tile, on the other hand, for its more affordable pricing.

Laminate Flooring: Laminate looks like stone, wood, or even tile, but is a fraction of the cost. Overall, laminate can be durable and easy to clean (much easier than hardwood floors) and it is long lasting. If you don't mind your floors not being truly wood or tile, then this may be a good option for you.

Luxury Vinyl Flooring: Like laminate, luxury vinyl flooring is available in real stone and wood looks. But, because of its special construction, luxury vinyl is more durable than laminate. It, for example, can handle foot traffic and moisture without any issues. Some luxury vinyl flooring options, including Invincible H2O, are waterproof.
Best Kitchen Flooring Ideas
When shopping for kitchen flooring, realize you have plenty of options available to you today including in material but also in texture, color, and style. By far the most effective option is tile flooring, but kitchen tile is very versatile itself. You'll love that the right flooring can help to define your kitchen. Consider materials that stand out if you hope to make a statement. On the other hand, many flooring materials can work to link spaces together and create a cohesive look. Consider a variety of options before making your decision.
Be sure to let the experts at Modern Carpet One Floor & Home in New Orleans, LA help you design the perfect kitchen. We offer premium design services, so we can certainly help transform your dreams into a reality.